Hearty Welcome to MVPS's Arts, Commerce & Science College, Tryambakeshwar, Nashik
The MVP Samaj's 'Arts, Commerce and Science College Tryambakeshwar, was established in 1998. It is permanently affiliated to the Savitribai Phule Pune University, Pune. It is located in a rural and tribal area of Tryambakeshwar, a place lies in the Sahyadri Ranges at the foot of Brahmagiri Mountain. It is one of the twelve Jyotirlingas, the sacred places of Maharashtra. It is just 30 kms away from Nashik, the mountains and hills have encircled this location and added to its natural beauty and spirituality. Tryambakeshwar is also the source point of the Godawari River. The college has been providing the higher education up to the degree level in this hilly and tribal area, in Arts, Commerce and Science streams with various specializations. The College offers degree programs in Arts, Commerce, and Science. The college provides education in 13 subjects at Degree Level. The college has a staff of about 48 consisting of 35 Teachers and 13 non- teachings. There are 784 total numbers of students in current year (2021-22). [ Read More ]
"Education is not preparation for life; Education is life itself."

Hon. Adv. Nitin B. Thakare,

Sarchitinis, MVP Samaj, Nashik.
This beautiful & profound statement encapsulates the value of education. Nothing can quite uplift our spirit in quite the same manner as education does. Yes, there are some exceptions of people attaining greatness without formal education. But for the rest of us, education is the foundation on which to build our dreams into reality. Not long ago, education merely meant the transfer of knowledge from the teacher to the taught.
Today, education is much more than that. It has been estimated that the entire body of knowledge is doubling about every three years. To keep pace with this explosive growth is quite impossible. I firmly believe that the key differentiators that matters is the ethos of the Institute.
We are confident that our students will be meeting your requirements and contribute to your success, as has been out experience over past years. We request you to provide them the opportunity in your esteemed organization to achieve there career goals.
---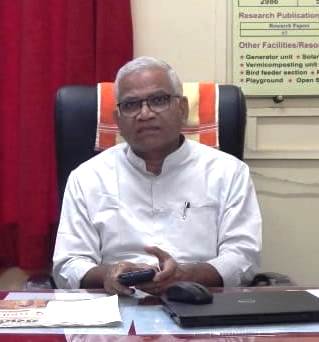 The MVP Samaj's 'Arts, Commerce and Science College Tryamabeshwar', was established in 1998. It is permanently affiliated to the Savitribai Phule Pune University, Pune. It is located in a rural and tribal area of Tryambakeshwar, a place lies in the Sahyadri Ranges at the foot of Brahmagiri Mountain. It is one of the twelve Jyotirlingas, the scared places of Maharashtra. It is just 30 kms. away from Nashik, the mountains and hills have encircled this location and added to its natural beauty and spirituality. Tryambakeshwar is also the source point of the Godawari River. The college has been providing the higher education up to the degree level in this hilly and tribal area, in Arts, Commerce and Science streams with various specializations. The College offers degree programs in Arts, Commerce, and Science. The college provides education in 11 subjects at Degree Level. The college has a staff of about 42 consisting of 29 Teachers and 13 non- teachings. There are 782 total   numbers of students in current year (2018-19).We make efforts to provide education to the masses, underprivileged and the first generation learners. We are no where less to achieve academic excellence by imparting quality teaching-learning, research, co-curricular and extra-curricular activities. We are strengthening our students towards nation building.
I assure you the excellent experience with us.